Art Therapy with Transgender and Gender-Expansive Children and Teenagers
An educational and inspirational book that offers practical guidance for art therapists working with transgender and gender-expansive youth and their families. It provides art therapy goals, recommended treatments and coping skills to use with this client group.
Each chapter looks at how art therapy can address a different concern or aspect of the experience, such as transitioning, bullying, and recognizing or building a support system. It includes detailed case studies and cutting-edge art therapy interventions, which help young people to express the emotions surrounding the discovery of gender identity, the transition process, and self-care.
Available at these book sell
ers: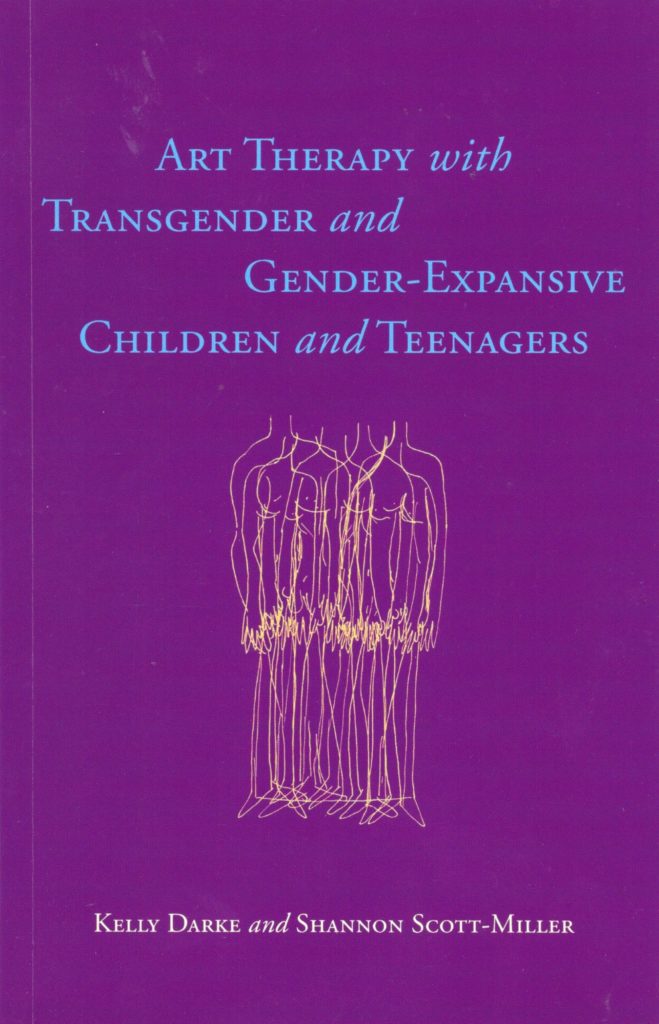 Reviews
If you are an art therapist who finds yourself working with a transgender or gender-expansive child or teen and you need a good foundation to support them, this book is for you! Art Therapy with Transgender and Gender-Expansive Children and Teenagers is an excellent introduction to providing affirming therapy from an art therapy lens. Throughout the text, it is clear Shannon Scott-Miller and Kelly Darke are passionate advocates, art therapists, and educators. They break down complex topics into manageable chunks, making it accessible for the art therapist who has not previously worked with transgender or gender-expansive children and teenagers. Scott-Miller and Darke critically look at implicit bias with gender expression and gender identity, giving specific art directives assisting in investigating individual, family and cultural bias in a gentle, yet critically reflexive way. Scott-Miller and Darke provide case studies as examples to aid in the learning process integrating ideas of affirming therapy throughout the book. The developmental stages of gender development and its clinical implications is examined with supporting case studies and references. Gender Dysphoria is highlighted in the text with diverse examples of how art therapy can support treatment. Scott-Miller and Darke look at systems level assessment and support building for the client. Working primarily with transgender clients, I can attest to the importance of assessing for support and the impact of systemic oppression on the mental health of transgender and gender-diverse individuals. Scott-Miller and Darke end the text with critically reflecting on the lack of standards and guidelines within the American Art Therapy Association for working with transgender clients, pushing for more support from the national organization as well as the community to do more research to better support our work with this population. Scott-Miller and Darke lay the foundation that is needed for working with gender-expansive and transgender children and teens in art therapy. If you find yourself needing some direction and support in this area, this book is a great place to start.–Jennifer Rozell-Whitaker LPC, ATR-BC (they/them, she/her)